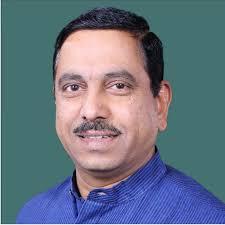 Shri Pralhad Joshi
(Minister of Coal, Mines & Parliamentary Affairs)
Constituency : Dharwad (Karnataka)
Party Name : Bharatiya Janata Party(BJP)
Email Address : joshi[DOT]pralhad[AT]sansad[DOT]nic[DOT]in
                            pralhadvjoshi[AT]gmail[DOT]com
Father's Name Shri Venkatesh Joshi
Mother's Name Smt. Malatibai
Date of Birth 27 Nov 1962
Place of Birth Vijayapur (Karnataka)
Marital Status Married
Date of Marriage 26 Nov 1992
Spouse's Name Smt. Jyoti Joshi
No.of Daughters 3
Educational Qualifications B.A. Educated at K.S. Arts College, Hubli and Karnatak University, Dharwad, Karnataka
Profession Industrialist
Permanent Address 122-D, Mayuri Estate, Keshwapur, Hubballi-580023, Karnataka Tels. : (0836) 2251055, 2258955 09448283555 (M)
Present Address 5, G.R.G. Road, New Delhi - 110 001 Telefax : (011) 23094650, 23093797, 09448283555 (M)
Positions Held
General Secretary, B.J.P. Dharwad District
President, B.J.P., Dharwad District
Elected to 14th Lok Sabha
Member, Standing Committee on Chemicals & Fertilizers Member, Joint Parliamentary Committee on Wakf
General Secretary, B.J.P., Karnataka State Unit
Member, Standing Committee on Transport, Tourism & Culture
Re-elected to 15th Lok Sabha (2nd term)
Member, Standing Committee on Railways
Member, Committee on Absence of Members from the Sitting of the House
President, B.J.P., Karnataka State Unit
Re-elected to 16th Lok Sabha (3rd term)
9 June 2014 - 25 May 2019
Member, Panel of Chairpersons, Lok Sabha
13 June 2014 - 25 May 2019
Member, Business Advisory Committee
Member, Consultative Committee, Ministry of Urban
Development, Housing and Urban Poverty Alleviation
1 Sep. 2014 - 25 May 2019
Chairperson, Standing Committee on Petroleum and Natural Gas
15 Sep. 2014 - 25 May 2019
Member, Committee on Ethics
29 Jan. 2015 - 25 May 2019
Member, General Purposes Committee
7 Sept. 2018 - 25 May 2019
Member, Committee on Privileges
Re-elected to 17th Lok Sabha (4th term)
Union Cabinet Minister, Parliamentary Affairs; Coal; and Mines
"Sadhaneya Sankalpa" in Kannada.
Social And Cultural Activities
(i) Associated with mid-day meals project for primary school children and above 86,000 children are being fed; (ii) Conducted many free general health and eye camps and thousands of patients have been provided free medical care.
Special Interests
To serve the poor and other deprived section of society
Favourite Pastime and Recreation
Listening to Hindustani classical music, reading books of literary importance
Sports and Clubs
Chess, Badminton and Carrom.
Countries Visited
Malaysia, Singapore, Sri Lanka and U.S.A.
Other Information
Hon. Chairman, Vijayanagar Education Society, Hubbalii; Board Member, Karnataka Chamber of Commerce and Industries. Participated as a member of the Indian Parliamentary Delegation at the 63rd Session of General Assembly, UNO in Dec. 2008 and spoke on atrocities on women and children; Participated as a Member of the Indian Parliamentary Delegation in April 2012 and spoke on the need for a "Genuine Political Settlement` to the Tamil issue in Sri Lanka"
Date:
15/04/2019 - 29/04/2022